Below is the translated version of Hong Kong Wenweipo's interview article published on Feb 18 for reference.
[Hong Kong Wenweipo] Since the first day of Lunar New Year, the Roborn team, including six professors and doctors, had worked intensely for 15 days to develop a 5G epidemic prevention smart robot, which can facilitate temperature detection, instant alerts, automatic navigation, assistance in tracking etc. At present, the epidemic prevention robot has completed site testings at locations including medical centres, offices, shopping malls, restaurants, and cinemas at Hong Kong. The robot is highly popular among front-line staffs as it meets the requirements of actual working environments. Roborn Co-founder Mak Hin-yu expressed that he hopes to contribute his expertise to the fight against the epidemic by developing the epidemic prevention robot, which can alleviate the work pressure of front-line staff and reduce their chance of getting infected.
4K Camera to assist in recording
Mak's original intention for developing robots is to help human being make a better living by using robots to replace humans in doing dangerous jobs. Ever since the spread of the novel coronavirus, taking one's temperature has become a necessary action, be it when going out for shopping, getting to work or school, or under quarantine. Right now, we can completely count on technology for doing this "necessary action" for us, especially when the front-line staff are facing immense workload. By developing the epidemic prevention robot, the front-line staff's work pressure can be alleviated and their chances of being infected will be decreased.
Unlike traditional robots, the trunk of the epidemic prevention robot is a large monitor. When people with normal temperature pass by the epidemic prevention robot, the monitor will feature images of their heads surrounded by a green frame. On the other hand, an alert will be issued when people with fever pass by. According to the company's introduction, this epidemic prevention robot includes functions such as temperature surveillance, instant notification, distribution of information on epidemic prevention, and automatic navigation. Inside the robot is a self-developed super system which can instantly detect people with abnormal temperature and issue alarm. At the same time, the 4K camera will take high resolution images and record the information according to the regulations of local authorities and relevant organizations, then track the people with abnormal temperature and remind those in close contact for further follow up.
Realizing automatic navigation
Mak said that compared to current fixed infrared temperature detection devices, the epidemic prevention robot does not require manual operation. With artificial intelligence included, the measurement accuracy is higher as the robot will aim directly at human foreheads; there will not be a situation where the device mistakenly detects someone for holding a hot drink. "The imaging lens used right now are from the overseas. The level of accuracy for measuring temperature is of international standards."
Furthermore, the robot comes with an AGV mobile platform which can keep a record of the entire path just by moving around a venue once. Afterwards, it can move around automatically and navigate by itself. Users can also set time and petrol mode according to their needs. Mak added that the epidemic prevention robot can be operated under Wifi and 4G networks and is compatible with 5G. Its battery can be replaced or recharged quickly and the battery life can last up to eight hours. The robot has been tested in multiple locations with highly satisfactory results. The public has expressed deep interest in this product and is satisfied with such method of temperature measurement.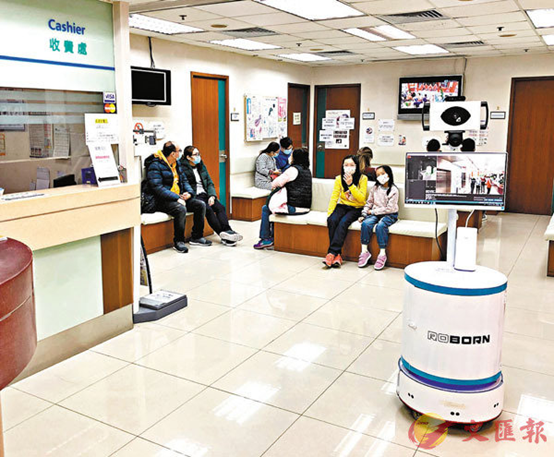 It took the Roborn team 15 days to complete the entire process from creative conceptualization, product design, setting up various functions, to producing the initial model. At present, the navigation, settings, temperature, AI etc, have all been adjusted so that the robot can be actually deployed. "You can use it right now already," said Mak.
As for the application and marketing prospects of the 5G epidemic prevention smart robot after the epidemic, Mak said their team has not given much thought about it yet. The main intention for inventing this robot is to help combat the epidemic, "Right now the focus is to get rid of the epidemic." However, as Mak sees it, after the 2003 SARS outbreak, many government departments, hospitals, and schools have reinforced temperature measurement. Therefore, it can be foreseen that epidemic prevention measures with agile deployment will be the regular practice in the future. As for the epidemic prevention robot, it can still perform its role during epidemics such as influenza, MERS and avian flu. The subsequent development is still optimistic for the robot.
Source: 香港文匯報 | 中國專題