(Below is a translation for the article)
09-03-2020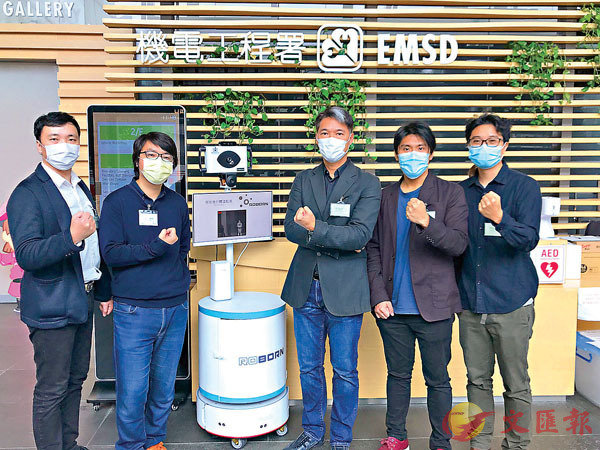 Due to the worsening epidemic, fixed infrared temperature detection devices available in the market basically rely heavily on manpower to determine the temperature with their naked eyes. This means when the temperature detection devices detect a person with abnormal temperature, the surveillance staff at the back office has to determine, track and take photos of the target through their computer screens. As a result, human errors may occur easily and targets may be missed. At the same time, it creates pressure to human resources deployment as more manpower is needed when there are multiple entrances and a large influx of people in the building.
Furthermore, most fixed infrared body temperature detection devices are located near entrances of large buildings or communities. They lack agility and may fail to identify target persons to perform accurate detection at a key time and place, hence there is a high chance of missing targets. When people are behind the gates, they may stay there for several hours (i.e. hospitals, airport terminals) or even days (i.e. cruise ships) before their symptoms become prevalent (e.g. abnormal temperature). With them not noticing and proceeding with their usual social gatherings, they may infect each other and soon the community will have an outbreak.
Witnessing the situation, Prof. Larry Poon Ka-Yeung and Prof. Mark Mak Hin-Yu led their team, including six professors and doctors, to develop a 5G epidemic prevention smart robot. After working intensely without resting for 15 days, a total of 3,000 hours, the 5G epidemic prevention smart robot was developed and given the name PEP3000. Its goal is to "protect front-line staff and alleviate their pressure with agile deployment."
Prof. Poon pointed out that it uses technology and AI robots to complete "necessary tasks that are susceptible to infections and require manual operation": measure temperature, provide instant alert, deliver epidemic information, assist in tracking in case of emergency. For instance, it can assist in identifying and tracking patients with fever and reminding those in close contact with him/her. It facilitates detection at selected areas with agile deployment to achieve more efficient and effective prevention.
At present, the epidemic prevention robot is already being used at the government's Electrical and Mechanical Services Department and Correctional Services Department, and also at several medical centres as well. However, they hope the robot can be deployed to more locations, such as hospitals, arrival or transit halls at airports, other government institutions, welfare organizations, hotels, complex buildings, shopping malls, cruise ships, university campuses or theme parks etc. At the gates or after the gates, or areas packed with people, the robot can be deployed to different locations at different times to identify the target. For more information on this robot, you can refer to Roborn's website www. roborn.com.
Source: Wenweipo