(Below is a translation of the article)
Tracking potential patients, UVC light kills COVID-19
Body temperature detection and disinfection have become the new norm under the epidemic. A local technology company has developed multiple "epidemic prevention smart robots" which are ready to be deployed around the clock. Combining artificial intelligence, IoT, 5G and other modern technologies, the robot can replace manual body temperature detection with an accuracy of 99.99%. Once someone has a fever, an alarm will be issued immediately. Together with the tracking function, it makes it easier to identify potential patients and reduce the risk of community outbreak. Another robot, the "UVC light disinfection robot", uses ultraviolet light to kill the novel coronavirus in the environment. The robot has already been deployed in government departments or medical centers.
Roborn Technology, a local tech company, formed a team of ten professors and experts in March this year. The team successfully developed a cruising body temperature detection robot "PEP3000", which is equipped with an infrared body temperature detection camera lens. With an accuracy as high as 99.99%, it can be used even in medical centers, which are subject to stringent requirements.
Detect human body temperature within five meters
The company's co-founder Mak Hin Yu pointed out that the object recognition function of "PEP3000" can accurately identify the position of the human forehead and measure the temperature without being affected by other heating objects. It can move one meter per second and the lens can detect human body temperature within five meters.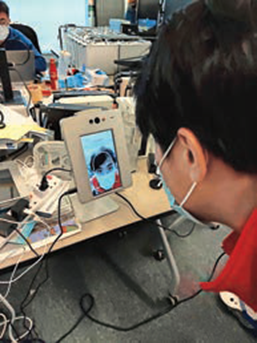 Another function of "PEP3000" is the tracking mode. If someone is found to have a fever, the robot will record the footage and issue an alarm to remind the relevant people to pay attention. Together with the tracking function, the data is transmitted to the back office. The robot can even trace close contacts next to the suspected patient, reducing the risk of community outbreak.
Measuring body temperature is a preventive task. Another type of robot, the "UVC light disinfection Robot (Unicorn)" takes an active approach. The UV lamps on the body of Unicorn can kill the novel coronavirus in the environment.
Disinfecting 4 m×4 m spaces in two minutes
Mak said that the robot can move to different locations and is equipped with sensors to prevent collisions with passers-by or obstacles. The retractable design of the side wings saves space, which is convenient for entering and exiting different places. The robot is equipped with a 360-degree 4K/8K HD lens to ensure that the disinfection process occurs in an unmanned environment. After its side wings are extended, the irradiation range becomes wider, even to the ceiling. The disinfection process is speedy ; a space of 4 m× 4m only takes two minutes to disinfect.
"In addition to reducing the burden on staff, the robots can also reduce close contact between people, hence reducing the chance of transmission!" Mak believes that epidemic prevention is a prolonged battle, and robots can help improve efficiency. When developing different anti-epidemic robots, combining them with 5G technology, low latency, high bandwidth, and wide Internet of Things, enhances the practicality of robots. "5G supports 4K and even 8K resolutions, allowing operators to monitor the surrounding situation through the robot's lens in real time, and even control several robots at the same time to complete different tasks!"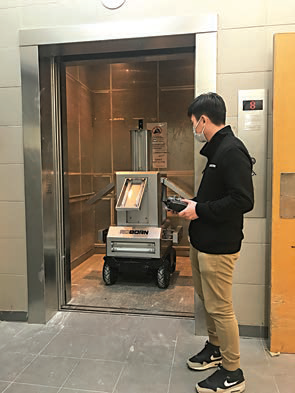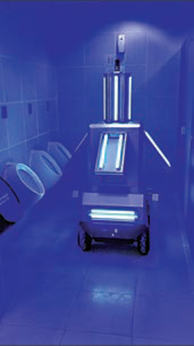 Epidemic Prevention Smart Robot (PEP3000)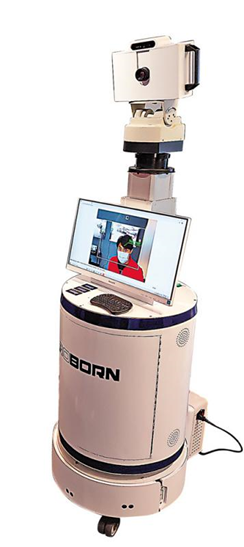 Cruising function:
-Can move at speed of 1m/s, detect body temperature within 5m
Accurate recognition:
-Can detect temperature from forehead with an error of 0.01 oC
Object recognition:
-Unaffected by other heated objects
Alarm function:
-When abnormal body temperature, an alarm will be issued in real-time
Track and trace:
-If there is a person with abnormal body temperature, it will record the footage for tracking close contacts nearby
UVC Light Disinfection Robot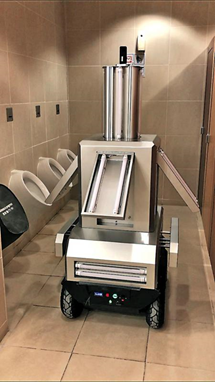 All terrain operation:
-Wireless remote control, drivable on steep slopes
Retractable design of side wings:
-Saves space, larger area of irradiation, including ceiling
360 degree 4K/8K HD lens:
-Ensure disinfection in unmanned area
Kills 99.9% bacteria
-Including novel coronavirus
High speed disinfection:
-Takes only 2 minutes for a space of 4m x 4m
Suitable locations:
-Including hospital, elevator, garbage room, back stairs etc.
Local enterprise develops nation's first 5G robot with China Mobile and ZTE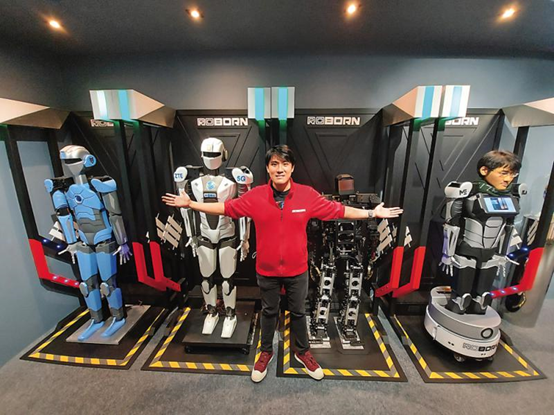 Local tech company Roborn Technology has been developing Motion Control technology for smart robots in the past three years. As 5G communications mature, the company has cooperated with China Mobile and ZTE earlier to successfully develop the country's first 5G bionic robot.
Many boys dreamed of driving robots when they were young. Mak is known as a robot fanatic; his childhood favorite was Mobile Suit Gundam. After completing the MBA program at the Chinese University of Hong Kong, he founded Roborn Technology with his classmate and partner, "We didn't have many funds at first when we started the company. What we had was just plain determination and our love for developing robots."
Ideas from sci-fi movies
Mak laughed and said that many of his ideas for the technology products originated from sci-fi movies. For example, parts of the body structure of the robots placed at the company entrance is reminiscent of Ironman, "The one on the far left is the first generation. Through remote operation and somatosensory control technology, the goal is to place robots in hazardous areas, such as working under radiation or high-voltage environments."
If nothing is ventured, then nothing is gained. When the first generation of robots came out, there was no 5G technology. The network delay made it difficult for robots to coordinate. In 2018, the company cooperated with China Mobile and ZTE. In the laboratory, they combined the robot with the 5G technology that was only in the experimental stage at the time, and the problem of delay was finally improved greatly. Together with the 8K HD lens, the robot's movements become smoother and can perform more different actions.
Combined with 5G technology, the bionic robot can be used for reception, epidemic prevention, patrolling, education, etc. The road to R&D remains long. Mak said frankly that the smooth mobility of the currently developed bionic robots is still limited to the upper body. Even if the lower body had "feet", it would still only be a decoration. In fact, it relies on tires to move around. But with the advancement of technology, he believes that one day a real bionic robot can be born.
Source: Takungpao